I am a queer transgender LGBTQIA affirming therapist focused on providing culturally competent care for all members of the LGBTQIA communities. My speciality is working with the transgender, nonbinary, and gender expansive/nonconforming communities, as well as sexuality and gender identity exploration, ethical
non-monogamy
, non-traditional relational and erotic orientation, among other queer identities, including LGBTQ allies. Other areas of focus include anxiety, depression, stress, OCD, grief, transitions, behavior change, neurodivergence, somatic experiencing, and more. I work with children, teenagers, young adults, adults, families, and couples/poly patients.

I value a holistic approach to therapy that incorporates mind, body, spirit, lifestyle, and more. I value assessing you, as a unique and complex person, in order to tailor our work to fit who you are, rather than force you to fit into plans that aren't working. I offer a client-centered and collaborative approach, allowing space for you to fully express who you are and who you want to be.
I combine evidence-based therapeutic practices with real-world application, placing your voice and experience at the forefront of therapy. I invite you to share your narrative of who you are, what you are experiencing, and how I can help support you. Through this, I am able to provide interventions unique to you and planning tailored to who you are, in conjunction with your feedback. My approach is rooted in an affirming, social justice lens and combines narrative therapy, mindfulness, family systems, and cognitive interventions, among other perspectives.
I enjoy incorporating mindfulness, grounding, and somatic work into therapy sessions.
Holding an LGBTQ or queer identity is not a requirement for patients I see, nor does it need to be the focus of our work together. I hold and acknowledge the unique identities you have, providing a space, affirming space for our work together. I keep your identities in consideration when assisting you in navigating your experiences, and how the unique intersections and complexities of your identities may affect other areas of your life.
​I foster a collaborative space for my clients to connect and explore their life experience, deepen self knowledge, and create more positive outcomes.
---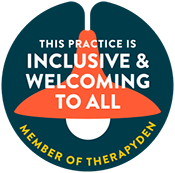 Icons by Becris