Welcome!
I'm Kai (they/he).
​I am a queer AFAB transgender LGBTQIA affirming therapist focused on providing culturally competent care for all members of the LGBTQIA communities.
My speciality is working with the transgender, nonbinary, & gender expansive/nonconforming communities, as well as sexuality & gender exploration, ethical
non-monogamy
, non-traditional relational & erotic orientations, among other queer identities (allies included!).
Other areas of focus are a
nxiety, depression, stress, OCD, grief/loss, transitions, behavior change, neurodivergence, somatic experiencing, self image, LGBTQ education, relational conflict, & more.
Ages & populations I work with include children, teens, adults, families, & couples/polycules.
​My approach is holistic, & incorporates mind, body, spirit, lifestyle, & more. I value assessing you, as a unique & complex person, in order to tailor our work to fit who you are, rather than force you to fit into plans that aren't working. I offer a client-centered & collaborative approach, allowing space for you to fully express who you are & who you want to be.
Holding an LGBTQ or queer identity is not a requirement for patients I see, nor does it need to be the focus of our work together. I hold & acknowledge the unique identities you have, providing an affirming space for our work together. I keep your identities in consideration when assisting you in navigating your experiences, & how the unique intersections & complexities of your identities may affect other areas of your life. ​I foster a collaborative space for my clients to connect & explore their life experience, deepen self knowledge, & create more positive outcomes.
---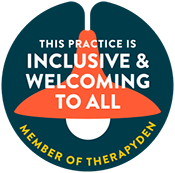 Kai Lewis AMFT# 126689
Supervised by Brooklynn Kendall LMFT#103221

Icons by Becris